Pi Tape® Diameter Measuring Tapes
---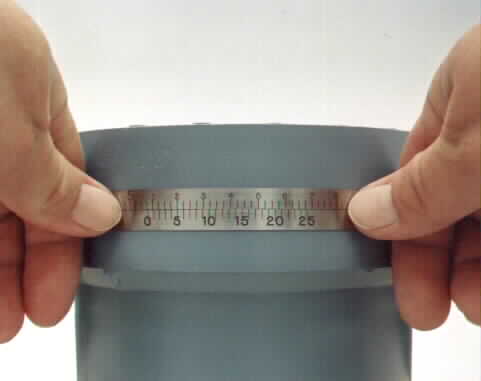 The periphery tape. exemplified by Pi Tape® brand tape, provides a quick, accurate and easy method of reading true diameters of both round and out-of-round forms.
Perfect for measurement of thin or soft walled parts - large or small.


Pi Tape gages consist of a narrow metal ribbon bearing special graduations.
These graduations are designed to convert circumferential distance into diameter measurement so the observer can read the diameter directly from the scale.


Tapes are checked over master gages at .001'"(.03mm) accuracy for standard tapes up to 144" (3600mm).
Certificate of accuracy traceable to National Institute of Standards and Technology is furnished.


Pi Tape gages are a precision tool made of 1095 clock spring steel (on request 420 stainless steel - for use in a corrosive atmosphere).
They require a minimum of maintenance, but we do recommend a quick wipe with an oil moistened cloth after use. A light gun oil works very well.


Make sure the tape has not been dented or kinked. This may affect the accuracy of the tape.

Pi Tape gages are invaluable tools to the aero-space field as well as the plastic pipe industry. The variety of uses are infinite.


In stock... tapes ranging from 3/4"-7" to 132"-144" diameter available for same day shipping.
link to Pi Tape® Brand economy extended range diameter tapes these tapes have a range of 72",
an economical alternative when an accuracy of .01 is an acceptable tolerance.