Fel-Pro Anti-Seize Lubricants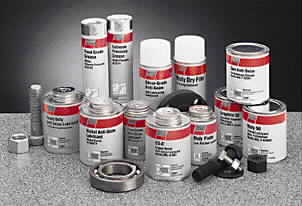 Fel-Pro invented anti-seize technology over 50 years ago to protect threaded and slip-fitted metal parts from rust, corrosion, galling, and seizing at high temperatures.




C5-A® link to tds
Copper-based formulation protects parts to 1800° F. Our original anti-seize lubricant, C5-A is still our most requested product for protecting nuts, bolts, fittings, and ensuring easy assembly and disassembly of metal parts. Tested to MIL-PRF-907-E.®

SILVER GRADE
General purpose, silver-colored. Smooth texture makes it suitable for protecting fine threads, snug slip-fits, and other closely-mated parts.

NICKEL ANTI-SEIZE
Suitable for use with stainless steel, this copper-free compound is recommended for chemical, waste water and sewage plants, and environments that require a clean, inert lubricant. Resists strong acids, chemicals, and temperatures to 2400° F.


GRAPHITE 50
Non-metallic anti-seize lubricant.. Tested to MIL-T-5544. Electrically conductive.



MOLY 50
General purpose thread lubricant
HEAVY DUTY ANTI-SEIZE link to tds
Provides outstanding lubricity to all metals, including stainless steel, aluminum, and other soft metals. Recommended for petrochemical plants, OEM-specified fittings, copper-free environments.

MOLY PASTE
Our lowest friction formulation lubricates press fits and protects equipment during break-in and under high static loads.

NUCLEAR GRADES
Fel-Pro nuclear grade anti-seize products are produced under 100% controlled conditions for highest purity. Each container is marked for traceability. Cartons contain certificates of conformance.

N-1000 ( link to technical data sheet)
For Classes 2 & 3 threaded power plant hardware. Copper-based formulation.

N-5000 ( link to technical data sheet)
Highest purity product is nickel-based, suitable for Class 1, 2 & 3 fittings in reactors, steam generators, and turbines, as well as high temperature chemical reactors.
N-7000 ( link to technical data sheet)
High Purity Anti-Seize. Metal-free formulation provides high levels of purity and excellent lubricating properties. For Class 1, 2 and 3 power plant hardware. Temperature resistant to 2400°F.

High Performance N-5000 ( link to technical data sheet)
FOOD GRADE ANTI-SEIZE
Authorized by USDA for use in incidental food contact. White anti-seize lubricant prevents wear and seizure of stainless steel and other parts in breweries, food processing and packaging plants.

FOOD GRADE GREASE
White extreme pressure grease protects after flushouts and steam cleaning.



MOLY DRY FILM
Brush, spray, or dip applied material air dries to form a solid film of lubricant for sliding surfaces, slow moving parts.

C-200 SOLID FILM LUBRICANT
Excellent production line lubricant is baked on for solid film protection to engine parts, bearings, servomechanisms.

EXTREME PRESSURE GREASE
Multi-purpose grease withstands extremes of pressure, temperature and water washout. Lubricates gears, bearings and slides. NLGI #1.




Industrial Grade Anti-Seize Compounds
Description
Part #
Container Size

C5-A ®
Copper-based formulation protects parts to 1800° F.
Our original anti-seize lubricant, C5-A is still our most requested product for protecting nuts, bolts, fittings, and ensuring easy assembly and disassembly of metal parts.
Tested to MIL-PRF-907-E.

51001
1 oz. tube
51002
4 oz. tube
51144
4 oz. brush-top can
51147
8 oz. brush-top can
51005
10 oz. brush-top can
51004
14 oz. cartridge
51003
16 fl. oz. aerosol
51006
1 lb. can
51007
1 lb. brush-top can
51008
2.5 lb. can
51009
8 lb. can
51010
25 lb. pail
51011
42 lb. pail
SILVER GRADE.
General purpose, silver-colored. Smooth texture makes it suitable for protecting fine threads, snug slip-fits, and other closely-mated parts.
51351
8 oz. brush-top can
51353
16 fl. oz. aerosol
51354
1 lb. brush-top can
NICKEL ANTI-SEIZE
Suitable for use with stainless steel, this copper-free compound is recommended for chemical, waste water and sewage plants, and environments that require a clean, inert lubricant. Resists strong acids, chemicals, and temperatures to 2400° F.
51285.
8 oz. brush-top can
51286
16 fl. oz. aerosol
51102
1 lb. can
51119
1 lb. brush-top can
51152
8 lb. can
51153
42 lb. pail
Extreme Service Anti-Seize Compounds
Description
Part #
Container Size

HEAVY DUTY ANTI-SEIZE
Heavy Duty Anti-Seize has excellent lubricity. Metal-free formulation provides outstanding lubrication to all metals including stainless steel, aluminum, and soft metals up to 2400°F (1315°C).

51605
9 oz. brush-top can
51606
18 oz. brush-top can
51607
35 oz. can
51608
45 lb. pail
51609
1 oz. Net Wt. Tube
MOLY PASTE
Our lowest friction formulation lubricates press fits and protects equipment during break-in and under high static loads.
51048
8 oz. brush-top can
51050
16 fl. oz. aerosol
51049
1 lb. can
51145
15 lb. can
NUCLEAR GRADE N-1000
For Classes 2 & 3 threaded power plant hardware. Copper-based formulation.
link to Technical Data Sheet
51115
8 oz. brush-top can
51116
1 lb. can
51117
2 lb. can
NUCLEAR GRADE N-5000
Highest purity product is nickel-based,
suitable for Class 1, 2 & 3 fittings in reactors, steam generators, and turbines, as well as high temperature chemical reactors.
link to Technical Data Sheet
51346
1 oz. tube
51349
2 oz. brush-top jar
51243
8 oz. brush-top can
51269
1 lb. brush-top can
51246
2 lb. can
51245
8 lb. can
Food Grade Anti-Seize Compounds
FOOD GRADE ANTI-SEIZE
Authorized by USDA for use in incidental food contact. White anti-seize lubricant prevents wear and seizure of stainless steel and other parts in breweries, food processing and packaging plants.
51168
8 oz. brush-top can
51170
2 lb. can
51171
40 lb. pail
FOOD GRADE GREASE
White extreme pressure grease protects after flushouts and steam cleaning.
51252
14.5 oz. cartridge
| | | |
| --- | --- | --- |
| GRAPHITE 50 Non-metallic antiseize lubricant. Tested to MIL-T-5544. Electrically conductive. | 51084 | 1 lb. can |
LUBRICANTS AND GREASES
MOLY DRY FILM
Brush, spray, or dip applied material air dries to form a solid film of lubricant for sliding surfaces, slow moving parts.
51026
16 fl. oz. aerosol
51028
1.5 lb. can
51029
10 lb. can
51030
50 lb. pail
C-200 SOLID FILM LUBRICANT
Excellent production line lubricant is baked on for solid film protection to engine parts, bearings, servomechanisms..
51021
1.5 lb. can
51023
10 lb. can
51024
50 lb. pail
EXTREME PRESSURE GREASE
Multi-purpose grease withstands extremes of pressure, temperature and water washout. Lubricates gears, bearings and slides. NLGI #1.
51242
14.5 oz. cartridge