Drill Chuck and Holder Terminology
Drill chucks and keys | Toolholders | Chuck and Accessory Removal Tools
---
Toolholders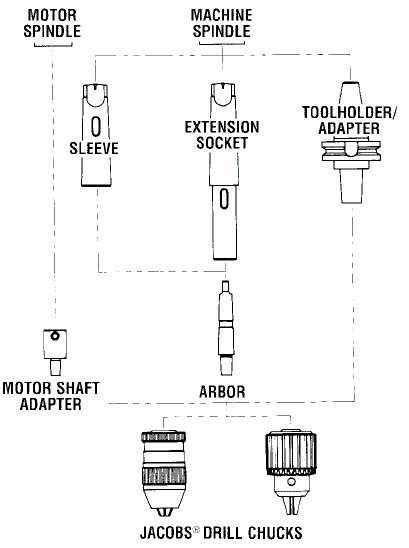 TOOL AND WORK HOLDER DEFINITIONS

Arbor: Chuck mounting device used to adapt standardized chuck mounts to various machine spindle tapers.

Arbors are also used to adapt mounts to other rotating devices such as machine spindles and lathes.

Sleeve: Adapter for arbors when the machine spindle requires a larger taper than is available on the arbor.

Extension Socket: Adapting device which increases effective spindle length and provides more flexibility when adapting to various taper sizes.

Centers: Support device for a workpiece when unusually long items or extreme accuracy are important. Available generally as rotating ("live") and stationary ("dead") designs.
Chucks and Keys
Chuck and Accessory Removal Tools
REMOVAL TOOL DEFINITIONS

Ejecting Drift: Hardened steel accessory used to disassemble self-holding taper components.

Wedges: Tapered steel plates used in pairs to disassemble chucks from arbors and spindles.