Order on Line
Nes External Thread Repair Tools
francais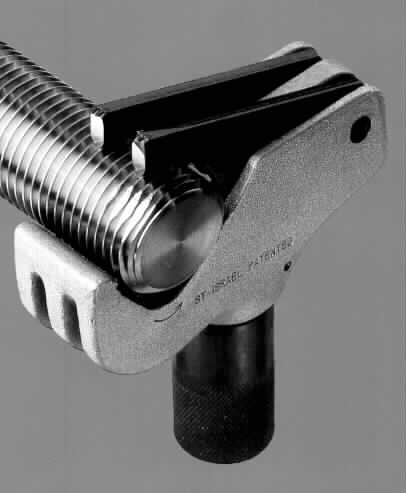 Damaged Threads?
Nes Thread Repair Tools
Features
Quickly adjusts to any diameter:


NES1A: 5/32" to 11/16"( 4-18mm)
NES 2:11/16"to 1-1/2" (17-38mm)
NES 3: 1-3/8" to 6" ( 35 - 152mm)


Blades automatically adapt to any thread pitch


The blades have axial play and will automatically adjust themselves into the thread grooves


Can be used on Left Hand or Right Hand threads.


Applicable for Metric or American thread forms


Blades also available with 55° cutting blades for British thread forms


Replacement Blades kits available




Nes External
Universal Thread Restorer


Nes1A
Description
Range
Pipe Size
(Inches)
(mm)
Small Thread Restorer 1A
5/32-11/16
4-18
7/16
---
Nes2
Description
Range
Pipe Size
(Inches)
(mm)
Medium Thread Restorer
11/16-11/2
17-38
3/8-11/8
---
Nes3
Description
Range
Pipe Size
(Inches)
(mm)
Large Thread Restorer
13/8-6
35-152
1-51/2
Nes –Le restaurateur universel de filetage.
S'adapte rapidement à n'importe quel diamètre:
NES1A: 5/32" à 11/16"( 4-18mm)
Nes 2: de 17 à 38 mm (11/16" à 11/2")
Les lames s'adaptent automatiquement à n'importe quel pas de vis.
Les lames ont un jeu axial et s'da'tent automatiquement dans les gorges du filet.
Utilisables sur des filets à droite ou à gauche.
Applicables à toutes formes de filets métriques ou non.
Disponibles aves des lames de coupe de 55 ou 60.
Kit de remplacement de lames disponible.

download Nes catalogue (2.4 Mb)