Order on Line

Pipestoppers™ Nylon Plug Range
NYLON PLUGS from 0.5" (12mm) through to 6" (150mm)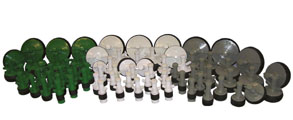 Pipestoppers™ Nylon plugs are used internationally as the standard 'Drain Plugs' for testing leak tightness of foul water lines at the time of installation.
Furthermore, the range of sizes make these plugs ideal for a number of other applications in the water and gas industries as well as applications in all other industries where pipes are used or where there are holes to be blocked.
Testing and sealing of all pipes, pipe joints and pipe work assemblies can be done with the Pipestoppers™ plugs. They can be supplied with a hollow shaft version for screwing on standard hose connections or for using our own fixed nipple caps or the free nipple and cap assemblies that we manufacture.
Or for the smaller sizes, they can be supplied with solid shafts for greater pressure testing capabilities.
Other applications include: Sealing holes in castings, tanks, other assemblies for spraying and blasting to protect the insides. Maintenance and installation of swimming pool and water spa pipe work.
Nylon 6 is an engineered polymer which is resistant to salt water corrosion it is also resistant to many other chemicals. Along with natural rubber rings they provide a high quality leak tight seal in the selected orifice.
There are two types:
" A solid shaft version with five sizes from 0.5" (12mm) up to 1.5" (38mm) and
" A hollow shaft version with eleven sizes from 0.5" to 6" inclusive.
All plugs have:
A central spindle/shaft on which two plates are fitted with a natural rubber tire (ring) between them, a wing nut on the shaft moving the two plates together compressing the tire and making the seal in the pipe or orifice. Natural rubber tires which can be substituted for different rubbers where additional chemical and/or heat resistance is required. Alternative rubber rings options are: Silicone, Nitrile & Viton)

The hollow shaft version with sizes from 0.5 inch to 6 inches allows:
Water or gas to be injected or drained as required.
Sizes of 1.5 inch and above are threaded with a half inch BSP for the connection of standard nuts/hose fittings is provided with a solid end cap seal are fully demountable for cleaning and parts replacement.
Optional end caps are available with fixed nipples/nozzles for hose connection or free nipples which can rotate when heavier hoses are used.
Common kits are featured below:
Orbital Plug Kits, Range 0.5" (12mm) through to 4" (100mm)

This kit was originally designed specifically for orbital tube welders, however it contains 2 off the most common sizes of purge plugs, all this comes stored in black ABS carry case with cutout foam. In addition to 2 off each plug the kit is supplied with end caps on all hollow shaft plugs & 4 off 0.5" BSP Nipple Caps & 4 off 0.5" Swivel Nut and Hose Tail.

Drain Test Kits, Range

The drain test kit contains plugs ideally suited for the most popular sizes of drainage pipes 2 off 2.5" through to 6", including accessories 0.5" BSP Nipple Caps and 0/5" BSP Swivel Nut & Hose Tails. All supplied in a robust Black ABS plastic case with custom cut foam inlay.

Plumbers Kits, Range

The plumbers test plug kit contains the most popular sizes of plugs and accessories. All supplied in a robust Black ABS plastic case with custom cut foam inlay.
Note: Due to additional tooling costs we can only offer the following on large bulk plug orders.
1. Where required, we can provide customers with end caps with their logo or company name moulded on.
2. We can also manufacture the plug so that the nylon is coloured.
link to Pipestoppers index page
Nylon & Aluminium plug technical information chart
Description: A technical data sheet on the weight size and range of the more common sizes of plugs.
Version: PDF Filesize: 15 Kb

Nylon Chemical resistance
Description: A guide to the chemical resistance of Nylon plugs.
Version: PDF Filesize: 103 Kb

Rubber properties chart
Description: A guide to the chemical resistance of the various rubber rings / seals available in the pipestopper range.
Version: PDF Filesize: 100 Kb
Irregular shape stopping
Description: A PDF flyer showing 2 different applications for irregular shaped stopping & pressure testing of vessels.
Version: PDF Filesize: 149 Kb

Trademarks are the properties of their respective owner(s).