We are your tap and die specialist.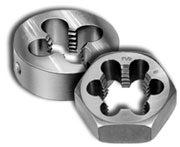 DEFINITION: Tap and Dies
Taps and dies are tools used to create screw threads, which is called threading. Many are cutting tools; others are forming tools. A tap is used to cut or form the female portion of the mating pair (e.g. a nut). A die is used to cut or form the male portion of the mating pair (e.g. a bolt). The process of cutting or forming threads using a tap is called tapping, whereas the process using a die is called threading.
Wikipedia
We have a huge assortment of standard and special sizes including inch, metric and british sizes.
Did you know you can order special size taps manufactured in 24 hours?

---
We also offer some
Carbon Steel Taps and Dies
( these are 1/2 the price of our HSS Taps and Dies )
Order on Line
Carbon steel taps and dies are designed for thread repair, thread cleaning or thread chasing.
They are designed to be used by hand.
These tools are not recommended to be used as a production threading tool.
For creating new threads, we recommend using HSS taps and dies.


Related Products