download catalogue


Tap Extractors
Three Simple Steps For Removing Broken Taps the Easy Way
Thoroughly remove all chips of the broken taps, insert the extractor fingers into the flutes of the broken taps, pushing them gently but firmly into position.


Push the holder down until it touches the broken tap.
Slide the sleeve down until it touches the work. ( Both are important.)


Apply a tap wrench to the square end of the holder. Twist forward and backward a few times to loosen , then back out the broken tap.


#4 to 1-1/2 " Tap Sizes
3mm to 38mm Taps Sizes
available in 2,3,4,and 6 flute styles.

1/8" to 1" Pipe Tap Sizes
available in 4 and 5 flute styles

#4 to 5/8 "STI" (Heli-coil or Recoil) Screw Thread Insert Taps
available in 2,3 and 4 flutes styles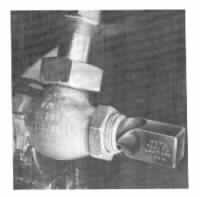 REPS Pipe, Stud and Screw Extractors
Designed for strength, durability and easy handling
Four point grip assures strong bite


Works with a shallow grip


Shallow grip lessens expansion and jamming


Pulls rather than reams


Releases instantly from bite after job is completed


All extractors have a rust resistant, black oxide finish.


Complete set of only 10 extractor fits every size and class of pipe from 1/8" to 2".


The same set of tools fits every stud and screw from 3/8" to 3-1/2"


Available individually or in sets



Also available for left-handed threads

click here for more detailed information
Style "A" Tap Extensions (for Hand Tapping only)
Designed for hand tapping in close quarters - where it is difficult or impossible to turn a tap wrench.
Each set contains two 5" long extensions- which can be used either singly ( to length the tap 5" ) or in combination ( to length the tap 10")

Available for tap sizes #10 to 1"


click here for more detailed information
















Style "B" Tap Extensions for both Machine and Hand Tapping
Designed for tapping in hard-to-reach tapping locations.
EASY ACCESS
Accurate, easy access into hard-to reach tapping locations. Smaller socket end O.D. permits extension to pass through a standard liner bushing


A QUALITY TOOL
Made of alloy steel to close tolerance and carefully heat-treated for strength and durability. Square and round sockets conform to size standard of leading tap manufacturers.


TAP HELD SECURELY
Each extension is designed for a specific tap size. The tap, supported by the close-fitting deep socket of the extension, is held firmly in position by two socket set screws bearing 90° apart on the square of the tap.


INEXPENSIVE
Cost is considerably less that the cost of "special" hard-to get extra length taps, yet can be used many times.


click here for more detailed information